Michigan Winters Mean Merlin Safety Covers
Once again, we're headed for winter here in Michigan. (Shocking, we know). We've found over the last couple of decades in the business that there is one cover manufacturer we suggest over and over again, and that is Merlin Industries Safety Covers.
They can cover basic to crazy pool shapes and sizes, and have some of the best designers in the industry…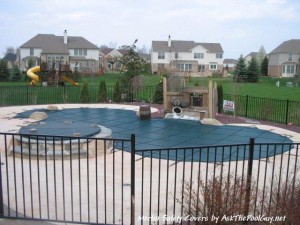 If we can get your cover designed for you this year, please give us a call. We're happy to!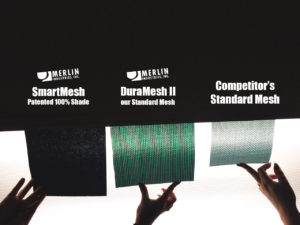 This photo demonstrates how terminology may be difficult to decipher when it comes to safety cover choices.
On the far right is one of our competitors' "standard" mesh cover materials; this is often compared to our standard mesh – DuraMesh II (pictured in the center.) As you can see when it is held up to a fluorescent light, there is a HUGE difference in the amount of shade between the competitor's standard (far right) and our standard (center.) CHEAPER does not always mean BETTER and all "Standard" safety covers DO NOT provide the same level of shade protection for pools.
On the far left, we have our SmartMesh material; Merlin's patented material and the only mesh safety cover material on the market to provide 100% shade. Look at that protection from the light!! Without sunlight able to get through the material, algae is way less likely to grow when the pool is closed in the off-season.
Make sure to compare samples before assuming all mesh materials from all manufacturers are the same!